Latest News
Welcome to the West Midlands Hedgehog Rescue
news page. Our hedgehog carer, Joan Lockley, posts a
new update every few months. You can also catch up
on our latest news by following us on Twitter or
2019
January 2019 - Happy New Year! from Joan
Hello again friends, I'm sorry to be so late giving the revue of 2018, the work load seems to get heavier every year, or is it me getting older? Probably a bit of both. <Read more>
2018
January 2018 - Happy New Year! from Joan
What can I say about 2017? Once again, like the year before, it went in a blur. Lots of things happened but as it was so very, ridiculously busy that one event overtook the other. <Read more>
2017
October 2017 - IFAW Blog Post About Joan
Clare Sterling, Communications Officer for the International Fund for Animal Welfare (IFAW) has posted a lovely piece on their blog about Joan and her work with hedgehogs... <Read more>
January 2017 - A New Years Message from Joan
Do you know folks, I really can't think of anything spectacular that happened in 2016, lots of things did (they always do) but the year went by in such a blur that I can't think of anything except hedgehogs, hedgehogs, hedgehogs...<Read more>
2016
September 2016 - This wonderful video was made for West Midlands Hedgehog Rescue by our kind supporters Rob and Tanya:
​
January 2016 - A New Years Message from Joan
Well, top that, what a year!!! Busy, busy, busy! There can never be another twelve months like this last one has been. I have not only taken in more sick, injured and orphaned hedgehogs this year than ever (500 in fact). It's been TV, radio,and journalists seemingly none stop... <Read more>
2015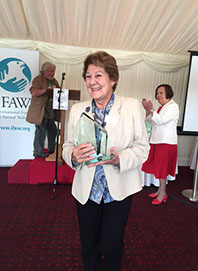 October 2015
Joan's work at West Midlands Hedgehog Rescue has been recognised by the IFAW. On 20th October Joan received a prestigious IFAW Animal Action Award, presented by Bill Oddie, at The House of Lords. The Friends of West Midlands Hedgehog Rescue are very proud of you Joan.
Read more about Joan and her award:
- The selfless heroes saving the world's animals are finally recognised for dedication, Daily Express 21st Oct 2015
- Hedgehog Rescuer Honored For Saving Thousands Of Prickly Critters, Huffington Post 21st Oct 2015
- Woman to be honoured for rescuing thousands of hedgehogs, ITV News 19th Oct 2015
- Hedgehog heroine from Staffordshire gets welfare award, BBC News 20th Oct 2015
- Cannock hedgehog rescuer receives international recognition for years of dedication, Cannock Mercury 21st Oct 2015
September 2015
Joan and the Friends of West Midlands Hedgehog Rescue would like to thank everyone for their overwhelming support at this year's Open Day on 5th September. Again the event was generously hosted by The White Horse pub in Cheslyn Hay and many thanks to them for their support. We raised an amazing £1700+ total and this will very much help the hedgehogs in our care this Autumn and Winter. A wonderful day - well done everyone!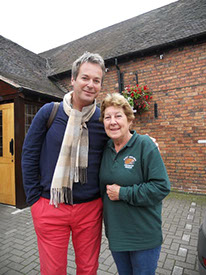 August 2015
Joan and her work at West Midlands Hedgehog Rescue
featured in the new ITV1 Series "Nature Nuts with Julian
Clary" made by Oxford Scientific Films.
Here are a few clips:
- Releasing a Hedgehog Back to the Wild
April 2015
Joan's work featured in The Express & Star newspaper this month. Click here to read>>>
The intention was to update this website every three months
but I simply have not had the time as 2014 has been such a
busy year! For a start ... [read more]
Joan's work featured in The Express & Star newspaper this month. Click here to read>>>
2014
So far it has been a busy year, no more than usual I'd say, but
it is definitely hotting up ... [read more]
Well what a strange year it has been so far. The hedgehogs
have just kept coming in, and they are nearly all
youngsters ... [read more]
At long last I have control of my own web site. For years its
been, "Ill do it, its too difficult for you" but no one ever
actually TOLD me how to do it ... [read more]